Typical Base 3 Workout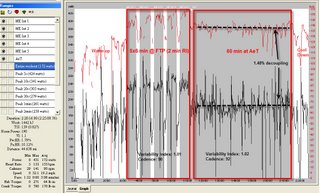 The accompanying
WKO

+
chart illustrates a typical Base 3 period training session. There are four parts making up this session - 1) a warm-up, 2) a workout including 5 x 6 minutes at FTP with 2-minute recoveries to boost muscular endurance, 3) a 60-minute steady state workout at just above aerobic threshold (about 75% of FTP), and 4) a cool down.
What sets this session apart from those in Base 1 and Base 2 is the broader focus on more than one ability. In the earlier Base periods training sessions typically include only one ability, either
aerobic
endurance, force, speed skills, or muscular endurance. The entire session is generally devoted to this ability in early Base. In late Base and especially in the Build period training sessions include two or more abilities. The reason for this change is "specificity." The closer you get to the first A-priority race the more like the race training should become. Exceptional race performances are usually made up of several abilities.
By Build 2, with three to seven weeks remaining until A-1, sessions are, essentially, mini-races with a great deal of variety simulating the demands of the race. This progression towards a broader training focus that simulates racing is the single most important aspect of
periodization
. If you get this specificity progression right you should be well prepared for your first big race of the year. But start this multi-focus training too soon, or worse yet, reverse the progression from multi-focus to single focus as the season progresses and your performance is likely to be unrewarding.