Tests and Measurements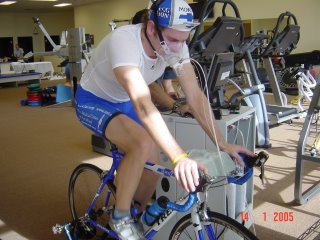 "You can't manage what you don't measure." – Peter Drucker, management theorist

I recall that in my undergrad work I thought of my Tests and Measurements class as the most boring course I had ever taken. I saw no purpose for it. My how things change. Today I wish I could take that class again as I believe this is one of the most important aspects of athletic training. I'd have a lot more questions and be much more involved.

I now test and measure the athletes I coach in many different ways throughout the season. This includes body composition, aerobic capacity, metabolic tendencies, functional power and pace, heart rate patterns, mental skills, and sport-specific skills.

For most all of these there are numbers that serve as baselines for where we are at a given time in the season. Most of them come from quite precise measurements in a clinical setting with an exercise physiologist conducting the testing. The picture here shows such a test in progress. Others are based on field tests such as all-out time trials or heart rate-regulated time trials. Video recording is used for skill measurement as it allows the athlete to see exactly what I see. It's amazing how different the athlete's perceptions of what they feel they are doing and what they are actually doing often are.

Without this testing done about every four weeks I wouldn't really know if athletes were making progress toward their goals or not. If test results show we aren't going in the right direction I make adjustments to the program in some way to get back on track. It's really easy to stray without such controls in place.

What can you do to test yourself? One way to establish such a baseline and get good information about your current conditioning and important training numbers such as heart rate, pace and power zones is to arrange for a VO2max test. You can often find these offered by health clubs, university health and physical education departments, medical clinics and even retail stores catering to runners, cyclists and triathletes. Many coaches also provide such services. Expect to pay in the neighborhood of $150 to $200.

Self-testing is also possible and can work quite well if you are diligent about controlling for such variables as rested state, diet, warm-up, equipment, and weather. Since the changes if you test every four weeks are likely to be on the order of one to three percent even small discrepancies in any of the above variables could give you inaccurate information. Chapter 5 in each of my Training Bible books offers suggested methods of self-testing in much greater detail than here.

Getting accurate feedback on how your training is going is one of the most important things the serious endurance athlete can do to achieve high goals. It's too bad I didn't realize that 45 years ago. I could have raced better and done a better job of coaching much sooner.