More on Peaking
In my last post on the Peak period I explained how I go about managing fitness and fatigue in order to produce high form for an A-priority race. Here are two charts (from WKO+ software) which may help to explain this a little more clearly.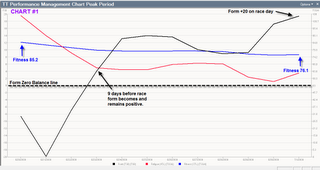 Chart #1
This is for a road cyclist I coach who was preparing for Masters Nationals Time Trial on July 1. He races 65+ so his event was 20km. We started his Peak period 12 days before the race. At that time his fitness (blue line) was 85.2 TSS/day. You can see there is a gradual decline with fitness becoming 76.1 by race day. That's a drop of about 11%, so right in the neighborhood of the 10% decrease that I attempt to get. Note how his fatigue (red) dropped very fast in the first three days and then stabilized before dropping again three days before the race.

This change in fitness and fatigue produced a rapid rise in form (black) so that nine days before the race it was positive and remained so until race day when it was +20.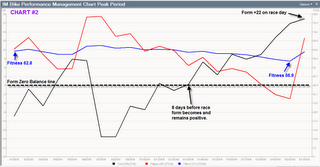 Chart #2
This is the Bike Performance Management Chart for the Peak period for an Ironman triathlete I coach who was preparing for Couer d'Alene on June 21. His Peak was longer than the one in Chart #1 – 21 days. His fitness dropped from 62.8 to 56.9 TSS/day. That's about 9%. Again, right in the range I try to hit.

His fatigue (red) actually rose on day 6 when he did his last long bike workout. This was a five-hour ride with 20-minute intervals done in power zone 3 followed by a 15-minute run at Ironman race intensity. The fatigue steadily dropped down to the day before the race. The "sawtooth" spikes during this decline show when we did his mini-race simulation workouts which gradually became shorter (the intensity remained the same).

The hard ride on day 6 of the Peak period caused form (black) to drop quite a bit. But with eight days to go until the race it became positive and remained so until race day. On race day form was +22.

I wish I could tell you that if you followed this procedure every time before an A-priority race you'd have great performances. Unfortunately, as I mentioned below, that isn't always the case. There are just too many variables in a person's life, some of which may occur right before the race or even weeks before with lingering affects. Common disruptors of training are illness, injury and lifestyle changes. This is what happened to the triathlete. The road cyclist had an excellent race.