Preparing for the 2010 Season, Part 3
Seems like when ever I say 'periodization' someone else says 'rigid' or 'inflexible.' I don't know why that is. I think some people just have a lot of emotional baggage associated with planning and assume the worst. Planning for peak performance is like planning a long car trip. You need a route drawn out on a road map. Along the way you may find some roads closed and so you will detour. Or you might decide to see a point of interest off the planned route. It's doubtful you will follow the planned route with no change. And so it is with periodization. I have never in 30 years of doing this followed a training plan without change. That doesn't mean the plan was wrong or some how bad. It just means that the situation has changed some how. I wrote about this topic about a year ago. If you believe that planning your season is doomed to failure based on something you've read about its rigidity or lack of flexibility please read that post.

Here are the next two steps in laying out your Annual Training Plan (ATP).


Step 3: Set Annual Training Hours
At the top of the ATP there is a space to indicate your "Annual Hours." This is how many cumulative hours you will train over the course of the season including all of your sport-specific workouts (triathletes-swim, bike, run; cyclists-ride; runners-run; etc), weights and cross-training time.

One way to determine annual hours is to look back at how much time you trained in the 2009

season. You may be able to add 10 to 15 percent onto this number for 2010 if you successfully and easily managed that volume. Another way of estimating annual hours is to determine what your normal training hours are for a week and multiply that by 40. A third option is to base annual hours on your longest race and general goal for that event using the Annual Hours Table.

Step 4: Prioritize Races
Next, on your ATP, write in all of the races you intend to do in the coming season in the column labeled "Races." Place them on the ATP in the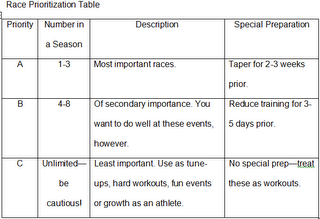 appropriate weeks based on their usual dates. For example, let's say that you have an event scheduled for Saturday, January 30, 2010. It would be listed in the row marked 'Jan 25' since that row includes all the dates from January 25 through January 31. If you have two races the same weekend list them both in that row.


Once you have listed all of your planned events designate each as 'A-priority, 'B-priority,' or 'C-priority' by writing in A, B or C in the 'Pri' column next to the race name using the accompanying Race Prioritization Table.
There are two more parts to this rather long topic. I'll post the next in a day or two.