Biomac shoes
There have been a couple of mentions of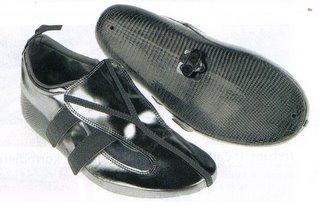 Goetz Heine's Biomac shoes in the original post and the follow up comments. Here is a picture of his shoe design with the centered cleats. This is the shoe I use and the one Leo refers to in his recent comment.

They are remarkably light--the lightest shoes I have ever worn by far. Without the cleat and insole, each shoe seems to weigh just a bit more than my Oakley sunglasses (I haven't actually weighed them yet).

I showed the Shimano shoe in my original post (below) to illustrate how "some" shoes could be modified to accommodate the centered cleat. But I wouldn't recommend getting out a drill and doing so without learning a lot more about cleat placement. Not all shoes can be modified due to their uneven surfaces in the arch areas.

To learn more about Biomac go to http://www.biomac.biz/.
Labels: cleat position, midsole