Shoe Revolution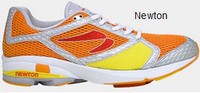 There's a revolution emerging in running shoes. New start ups are leading the way, albeit without many ad dollars, as the well-established shoe makers continue putting out increasingly control-oriented shoes designed to counteract the other problems they build in. The issue is now efficiency--not control or cushioning. The big guys are slow to figure this out.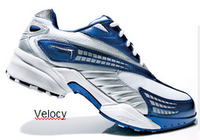 Efficiency means going faster for the same effort. This is probably the area where triathletes and runners could stand to improve their running the most, yet few do anything about it even though it is relatively easy to make changes given enough time, direction and dedication.

Gone are the days of teaching runners to land on their heels and roll to the forefoot like a rocking chair. That's simply a way to run slowly while increasing the risk of injury. The emphasis is now on a flatfoot or

midfoot

strike with body weight transferring to the ball of the foot almost immediately. The big guys don't seem to have figured this out yet. They still want you landing on your heels.
Unfortunately, this transition to a new style of running

isn

't free of injury risk either. Those who have been heel runners for a long time have soft tissues in the feet and lower legs which have atrophied from disuse. Changing abruptly to a

midfoot

strike is likely to aggravate and inflame these weak tissues. It will take some time to adapt. Shoes from innovative manufacturers are now being designed to help you learn to run correctly while reducing your risk of injury and shortening the time necessary to make the change.
Take for example, the Newton Running shoe, designed by a

pedorthist

-

ultrarunner

from Boulder. The Newton shoe has four "actuator lugs" under the ball of the foot that promote better use of the forefoot while running. They retail for $155 to $175. Another running shoe in this category is the

Velocy

. Its design encourages forward lean which is a critical element in running with good technique. Just putting the shoe on and walking around makes you aware that body weight is shifting quickly to the forefoot. These shoes retail for about $125

As always, big companies are slow to respond to changes in the market. There have been exceptions, such as Nike's minimalist Free shoe. But for the most part the major shoe makers just keep adding more

gizmos

to their shoes to increase their support--which is necessary because they designed a thick-heeled, unstable shoe in the first place. They'll eventually catch up, but it will take a while.