Quick Race Analysis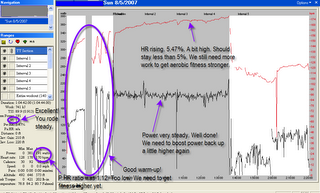 Above is the WKO+ power-heart rate graph of a 40km time trial from last Sunday done by one of the athletes I coach. She had a good race winning her category and finishing 4th overall. And bettered her time from the previous year. This despite not being even close to the fitness she had earlier in the season before she injured her foot by dropping a heavy object on it and losing several weeks of training. We're making good progress but we've got a ways to go with her training for late season races.

The graph includes my comments and provides great feedback on what we need to work on. We need to rebuild her pedal force to boost power and lift her cadence (it was 80 but obscured above). We also need to continue lifting her anaerobic threshold fitness. This is evident from the "decoupled" power and heart rate graphs. This should be less than 5% when in good shape. She did a great job of riding a steady TT as shown by her Variability Index ("VI") of 1.0.

Without this feedback she and I would only be guessing as to how her race went and what we need to work on.