Typical Build 1 Workout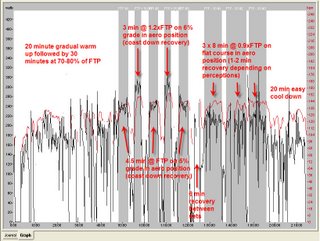 Here you see a typical Build 1 period bike workout for a triathlete who races at the Olympic distance or a road cyclist who does 30-40k time trials. Heart rate is in red and power is in black on this chart. The duration of the workout is about 2 hours and 15 minutes.

Note that about 44 minutes is spent at 90% to 120% of functional threshold power, or FTP (also sometimes referred to as lactate or anaerobic threshold power). This is a challenging workout with all of the ingredients to improve the athlete's muscular endurance, the key limiter for such events. Over the course of 8 weeks I would like to see this rider extend the time at 90% of FTP and higher to an hour or more. The hill intervals will develop greater force to allow the rider to eventually push a bigger gear. Ultimately, that is what bike training is all about: the capacity to turn a bigger gear at the same cadence. Improving muscular endurance will help to achieve this.

Preceding this workout, in the Base period, the rider developed aerobic endurance, force, and speed skills, and began the early stages of muscular endurance training. Most workouts at that time focused on only one ability at a time. But these abilities (and anaerobic endurance and power) are now brought together in the Build period with workouts that combine several abilities to simulate the challenges of the A-priority races on the athlete's schedule.