Strong and Weak Form
In order to become race ready you need to gain form. Form may be defined as "race restedness." In other words, when you are at your peak of readiness for a race you must have shed some of the fatigue you have built up over several weeks of training. Only then will you be ready to race well. You do not want to go into an important race tired. That seems to be accepted by everyone.

But here's one that isn't so universally accepted: In order to be really ready for a race you also have to give up some of your fitness. Let me explain. Go back to the statement above that in order to be race ready ("on form") you have to shed fatigue. How do you shed fatigue? You rest more and create less physical stress. What happens when you reduce the stress in your training? You lose fitness, right? If that was not so no one would train. They would only sit around watching TV if that created fitness. But it doesn't. So in order to gain form you must give up some fitness. That's just another way of saying that in order to race well you have to give up some fitness. Make sense?

The key here is how much fitness you are willing to give up. During a peaking or tapering period in the last several days before an A-priority race you should be reducing the stress in your training by including more easy workouts punctuated by hard workouts. I have athletes do an abbreviated, race-like workout every 72 to 96 hours for several days leading up to their race week. The easy workouts are very easy; the hard workouts are very hard. But there are more easy than hard workouts so on the whole training stress is reduced over this period. As a result form is gained while fitness is lost. But again, you don't want too much fitness to be lost.

I try not to have the athletes I coach lose more than about 10 percent of their fitness as measured by their average daily TSS (Training Stress Score) on their WKO+ software. I want to see their form (TSB – Training Stress Balance) trending upward over this time and rise above the zero balance point (red dashed line). When both of these occur I refer to that condition as "Strong Form." Form may still be positive but if fitness drops significantly more than 10 percent then the athlete has "Weak Form." In the latter condition the athlete will feel great on race day but lack power and perhaps intensive endurance abilities (muscular endurance and anaerobic endurance). Weak Form would not be expected to produce race results as good as would Strong Form.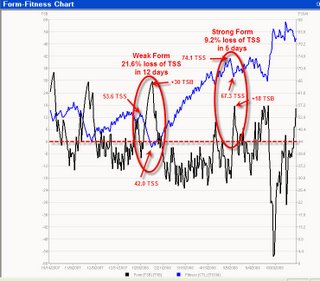 The accompanying chart illustrates two times in an athlete's season when he came into form. The first time form was weak. The second time it was strong. Notice that when form was weak the TSB was well above zero (+30) and when form was strong TSB was actually lower (+18). So the issue is not how high form rises but rather how low fitness drops when peaking for a race and form is rising.

In this example, fitness (TSS/day) is also higher when the athlete achieves Strong Form (76.3 vs 42.0) which is obviously also beneficial to race readiness. But even had the TSS/day been the same on race day, the race outcomes would still be closely related to how strong or weak the athlete's form was at the time—in other words, how much fitness the athlete had lost in the days leading up to the race.