40k TT Pacing Example
This is yet another post from me on pacing steady state events such as time trials and triathlons. By now you should have gottten the idea that I think this is a very important topic, but one that is all too often overlooked by athletes in their race preparation.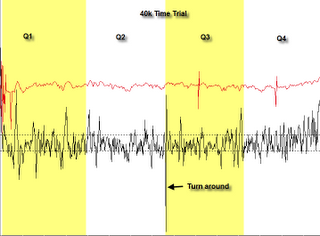 Here you see the chart of a well-paced, 40k time trial by one of the athletes I coach. It's a "stand-alone" race (not part of a multisport event). The black line is power and the red is heart rate. The chart is broken into 10k quarters.
We have been working diligently on her mental approach to race pacing since I started coaching her in January. In this race she did an excellent job of breaking the course into quarters as explained
here
and managing each as individual races. Her fourth quarter proved to be her best as you can see from the power increase near the end. But the best indicator, one that I always look for, is how well the third quarter went. This is when riders typically fade if they did a poor job of pacing in quarter 1. In this quarter her power was within 1 watt of the first two quarters.