Fitness and Health
Today I received word that Steve Larsen died. At first it was assumed to be the result of a heart attack, but was later determined to be some how associated with a breathing problem he had been having. It's all still quite vague. Perhaps we'll know more in a few days.

Although I didn't know Steve very well, our lives had overlapped a few times. In the 1980s he was an aspiring junior cyclist from Colorado and the same age as my son, Dirk. They used to go to races together. Before either had drivers licenses my wife was their chauffeur. She always said that Steve was a handful at that age.

I next saw Steve at the Sea Otter race in about 1999, I believe. We spoke very briefly. He was racing mountain bike that day but I don't recall how he did.

Then came July, 2001 when I was the coach of pro triathlete Ryan Bolton. By this time I had been coaching Ryan for four years. Up until then he had been racing ITU World Cup events and been on the 2000 USA Olympic team in triathlon's inaugural appearance. Following Sydney Ryan decided he wanted to change challenges and win an Ironman. His first would be Ironman Lake Placid. As it turned out, Steve had also decided to become an Ironman athlete after a great career as a roadie and mountain biker. Long story short: Ryan came in second that day to Steve who had an awesome bike leg and then ran a 2:54 on something like 12 miles of running a week (it was the fastest he ever ran). I thought Ryan would be able to run Steve down, but it wasn't to be. (Ryan went on to win in Lake Placid in 2002).

For the next few years I would occasionally run into Steve at some race. The last time was in Kona. He was always friendly and asked about Dirk and Ryan.

It's hard to imagine someone so fit and robust dying during a workout. But unfortunately it happens. The last time something of this magnitude happened was in 1984 when Jim Fixx died while out on a run at age 52. I remember it vividly because at the time I owned a running store and the running boom was still in its formative years.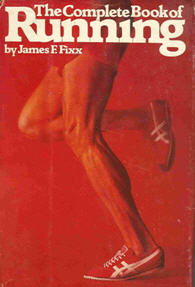 Fixx was the author of The Complete Book of Running which was published by Random House in 1977. Here you see the cover of that book. The legs are the author's – at the time a 45-year-old man who had run several marathons. The book was the best selling, hard-cover, non-fiction book ever published as of 1977.

In the book Fixx said that if you ran a marathon you would not die from a heart attack. We all believed him. Something else would eventually get us but it wouldn't be the old ticker stopping. So you can imagine what his death while on a run in Vermont did to the running community. It scared the hell out of a lot of people who decided to give up the sport believing it was too risky.
Later we learned that Fixx's father and grandfather had also both died of heart disease and at younger ages than him. So more than likely Fixx's lifestyle bought him a few more years. But being highly fit definitely did not overcome his genetics. Interestingly, that same year he had been offered a free stress test by Dr. Kenneth Cooper at his clinic in the Dallas area. Fixx turned it down believing there was no need to test his health. He was obviously fit. What could be better?

Unfortunately, as both Jim Fixx's and Steve Larsen's deaths show, great fitness does not mean you also have great health. While this post is mostly just a time for me to reminisce, I'd be remiss if I didn't point out that you can't take your health for granted no matter how fit you are. Here's another: Who would have thought that a 25-year-old, World Champion cyclist and Olympian could possibly have cancer in an advanced stage. These things happen even to fit athletes of all ages. You may be fit, but you're not necessarily healthy. The two are not the same.