Preparing for the 2010 Season, Part 4
I had hoped to get this posted earlier but it turned out to be a busy weekend. So I was up early on Monday morning to get it done. Below is Part 4 of how to plan your 2010 season. There will be one more installment in this series in a couple of days. As mentioned in Part 1, you can download a free Annual Training Plan form which can be completed electronically by going to the TrainingBible Coaching website. Or you can sign up for an account at TrainingPeaks where a VirtualCoach I designed will do all of this for you. A couple of athletes have mentioned that they couldn't get the Excel form to open on the TrainingBible website. If you run into a problem like this feel free to email me and I will send you one. I'll need to know your sport in order to do this. Back to planning...

Step 5: Divide Year Into Periods
The next task in completing your Annual Training Plan (ATP) is to periodize the season. The accompanying "Period Purpose and Length Table" will help guide you. The "Purpose" of each period as described in the table is generally the way it is done by most athletes training for most events. But there may well be differences in the way you train at any given period in the season. For example, when training elite Ironman triathletes I often have them do Anaerobic Endurance training in Base 3 to boost aerobic capacities before starting into the Build period with a heavy emphasis on Muscular Endurance. The only hard and fast rule in periodization is that the closer in time that you get to your A-priority race, the more like the race training must become.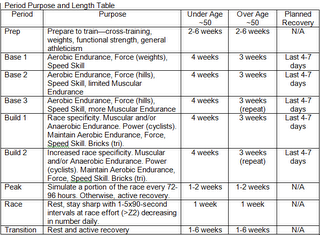 "Periodizing the season" means assigning training periods to each week of the year in the "Period" column of your ATP. You'll fill in this column by working backwards. Start with the first A-priority race of the season. At the intersection of the Period column and the first A-priority race row on your ATP write in "Race" in the Period column. Then go up one row and write in "Peak 2" and then up one more and again write in "Peak 2".

The next two periods vary based on your age or, more accurately, your capacity for recovery. If you are younger than 50 (or recover relatively quickly) count up four weeks and write in "Build 2" for each of these weeks. Then count up four weeks again and write in "Build 1." Do the same for Base 3, Base 2, and Base 1.

If you are older than 50 or recovery relatively slowly assign three weeks to each of these periods but include two Base 3 periods and two Build 2 periods. The reason for the age or recovery differential is that older athletes or those who recover slowly typically need more frequent rest weeks. The last four to seven days of each Base and Build period is a recovery week. Some athletes who recover quickly will be ready to start training at a higher level after only four days of active recovery. Others may need as many as seven.

The top two to six weeks are labeled "Prep" regardless of age. How many of these you schedule depends on when the previous season ended and how ready you are to start focused training again.

Finally, the week after your first A race write in "Tran"—short for transition to a new long-term training program. If this first Transition period comes early in your season then I'd suggest taking just a few days off from focused training. This may only be three days but could be seven depending on mental and physical fatigue or niggling injuries. After the last A race of the season you may need two to six weeks. The idea is to give not only your body but also your mind a break. It's alright to "exercise," but "training" is forbidden. The purpose is to rest and rejuvenate by not having a routine or workouts that must be done.

The novice athlete does not do the Build periods so as to focus attention on the basic abilities for one or two seasons. In this case, Base 3 is repeated and replaces the Build periods.

Planning up to the first A-priority race schedule of the season is now complete. It was the easy one. Basically, we just followed a formula to plan it. For the subsequent A races you have a decision to make and some periods to leave out. For example, when scheduling beyond the first A race you will not repeat the Prep period and probably not Base 1 or Base 2 either. However, you may want to return to Base 3 after the first Transition period if your basic abilities (Aerobic Endurance, Force or Speed Skill) have obviously declined in the last few weeks. This is not unusual when the first A race was a short event and the next is long. You may even want to do Base 3 twice, if there are enough weeks until the second A race. If your basic abilities, especially Aerobic Endurance, are lacking it will greatly detract from training and racing for the rest of the season. But if the basic abilities are still strong after the first A race then you may want to start back into training with a Build 1 or Build 2 period. A note of caution: Don't short change the Base abilities in order to do more high-intensity training.

Of course, at this point as you are planning the season you are guessing about what sort of fitness you'll have several months from now. That's another reason why the ATP is likely to change throughout the season.

Finish filling in the "Period" column on the ATP through the end of the 2010 season. Later on, should you decide that the plan you have isn't right, you can always make changes (I hope you're doing the work with a pencil or electronically). I've never coached an athlete who made it all the way through a season with no ATP adjustments.