How to Modify Shoes for Midsole Cleat
The first blog I ever posted nearly two years ago is still the most read. The subject was Cleat Position. That post has led to many questions on how to modify an old pair of cycling shoes in order to give it a try. I got another such query this week so it's probably time to explain how with a stand-alone post to save answering this question so frequently.

And to answer another common question on this topic: Yes, I do still use midsole cleats and have seen many others try it with good results, also.

If you decide to modify an old pair of your shoes you will more than likely need to use a mountain bike pedal with a two-bolt cleat as the arch area of most cycling shoes have a bit of a concave curve. That means there would be a gap between the middle of the cleat and the shoe if you used a three- or four-bolt cleat.

Here's how to modify your shoes. The pictures are of an old pair of Shimanos I changed over several years ago.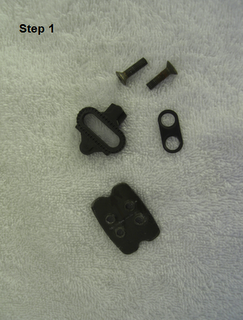 Step 1. Go to your local bike shop and in addition to mountain bike pedals and cleats get T-nuts and longer bolts than come with the cleats. Here is a picture of the parts you need. The T-nuts may be two, separate nuts instead of one, four-hole nut as shown here.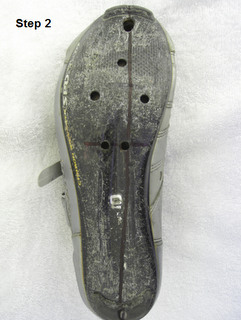 Step 2. After removing the old cleat draw a straight line from the middle of the toe of the shoe through the middle of the heel as shown in the picture. Measure to find the midpoint of that line and draw a second line perpendicular to the first.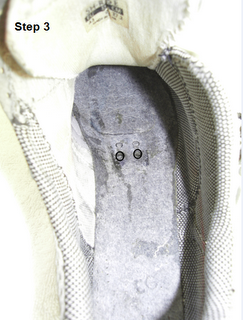 Step 3. Drill two holes on the second line that are spaced appropriately for your cleat and centered on the shoe widthwise. This is the tricky part. It's a good idea to check your measurements again before drilling. The picture here shows those holes from the inside of the shoe with the insole removed. This shoe happens to be smooth on the inside. That makes it easy. My wife's shoes had a recessed pattern of reinforcing squares which had to trimmed in order to insert the T-nuts.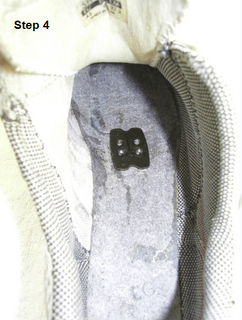 Step 4. Insert the T-nuts as shown here from the shoe's inside.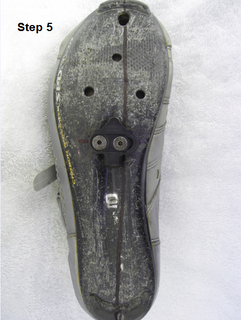 Step 5. Mount the cleats. Most of these two-hole cleats are adjustable for medial-lateral positioning as shown here. But I've seen some that aren't. If you can't slide it from side to side a bit then the position of the holes becomes even more critical. You could wind up with your feet too wide or too narrow once clipped in. So it's best to get cleats that are adjustable.

Be aware that with a midsole cleat you are likely to have a considerable overlap of the shoe with the front wheel. This makes slow turns a bit dangerous. If your shoe touches the wheel during a turn you may fall. You will eventually get used to this and learn to make slow turns with your outside foot out of the way of the wheel.




Also be aware that by drilling holes in the arch area you may well weaken the construction of the shoes to the point that they break under pressure when sprinting. The more massive the sole construction the less likely this is to be a problem. Thin-soled shoes should not be drilled. I'd suggest using the modified shoes with some caution as you gradually adapt to the new position. Ultimately, if you like what you find, you will want to get a pair of custom-built shoes with a midsole cleat. Perhaps some day a manufacturer will offer such a shoe so you can purchase them off the rack. But for now that is not an option.
Your position on the bike will need adjusting for a midsole cleat. The saddle will need to be lowered and adjusted fore-aft depending on a number of variables such as how steep or relaxed the seat tube is and how big your feet are. You may also need to adjust the handlebars for height and reach after the saddle is set. I'd highly recommend seeing a professional bike fitter to get this done right.
Labels: cleat position, midsole