Ironman UK Power Graph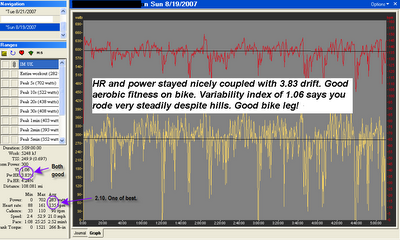 The power graph you see above was produced by one of the athletes I coach--Eric VanMoorlehem. It is from Ironman UK on August 19. Eric races in the 35-39 age group. He had a difficult preparation for IMUK due to a nagging Achilles tendon inflammation which stayed with him most of the summer. Because of this he didn't run much. He also felt the bike aggravated the Achilles (he has switched over to a midsole cleat position since the race to take the load off of his Achilles and calf). So he was a bit limited on training there also. So he went in to the race with both of us concerned that he may not qualify for Hawaii which he had done each of the last two seasons. There were three IM slots in his age group and we couldn't count on a roll down so we felt he had to get 3rd.

Eric is very good at maintaining a steady and consistent power output despite hills and even heat. This is evidenced by his 1.06 variability index (VI). VI is determined by dividing normalized power by average power. A VI of 1.0 would mean perfect pacing, but hills make this quite a challenge. IMUK was quite hilly.

He posted a 5:09 which is 18 minutes slower than his best IM bike split. He started the run in first place in his age group and ran as best he could given his limited run training coming into the race. He ran a 3:21 and finished in 9:33 for a 3rd place--22 seconds ahead of 4th. So he did qualify.

What I especially like about this graph is how little "decoupling" there is between power and heart rate over five hours of riding. Decoupling is basically a measure of cardiac drift. But, of course, heart rate could could stay constant with power drifting downward during the race. So rather than refer to this as drift I call it decoupling. The power and heart rate graphs remain almost perfectly parallel throughout this race graph. He experienced only 3.83% decoupling. I like to see this be less than 5% in a steady-state race such as a triathlon or time trial. Contrast Eric's decoupling with that in the race graph below. You can see a significant difference.