More on Road Bike Posture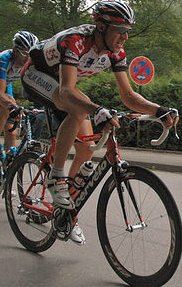 The accompanying picture is Jens

Voight

of team

CSC

. I have always liked his position on the road bike--hips rolled forward into the 'spilled-pelvis' position (described below), aerodynamic, back flat, head neutral, and comfortable reach to the bars. I suspect it's easy to set his bike due to his long femurs and long arms. He seems to be a natural for setting on a bike. His on-bike posture may serve as a model of what most of us should shoot for when setting up and riding a bike.