You Meet the Nicest People on Bikes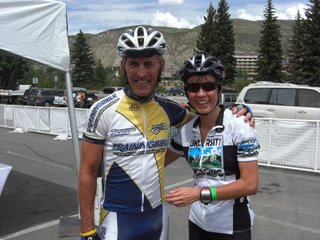 Last Saturday Bill Cofer and I rode the Colorado-Eagle River Ride-100 miles in the Colorado Mountains starting and ending near Vail. At mile 40 a woman passed us and offered some friendly encouragement as we lumbered up a steep hill following an aid station break. We soon caught her on the downhill and quickly dropped her. She caught back on. We dropped her again. And she came back. This went on for a couple of miles. She was so tenacious I finally asked her name.
"Uta" she said with a German accent.
"How often do you ride, Uta?" I asked.
"Only about two times a week," she replied. "But I run also."
"Do you ever do any running races?" I asked since she was obviously in good shape.
"No, but I used to do marathons."
So it finally dawns on me--Uta from Germany, used to run marathons and in great shape. "Is your last name Pippig?" I asked.
We were riding with Uta Pippig, one of the best marathoners of all time (see picture). She ran a 2:21:45, won the Berlin, New York and Boston (3 times) marathons in the 1990s, ran in the Olympics and was ranked #1 in the world in the marathon and half marathon. We rode together and she filled me in on what she does now. (Go to
www.takethemagicstep.com
to find out.) What a treat!
She also has a home in Boulder, Colorado where my summer home is so I hope to get together with her on a ride (I certainly can't run with her) some time to pick her brain about training at that level for so many years. This time I won't try to drop her.