Ironman Big Day
One of the triathletes I coach did his first Big Day yesterday as he prepares for Ironman Couer d'Alene. We had planned on doing it the previous weekend but he was sick the week before that, so we delayed it a week. He'll do another of these, only a bit longer, four or five weeks before IMCdA.

The Big Day is just that: Three workouts in a single day with each on the long side and an emphasis on Ironman goal race intensity. I got the idea from Gordo Byrn a few years ago when we were writing our book, Going Long. The following is what I had my athlete do and is typical of the Big Day.

Swim: Warm up: 200 building speed each 50 (slow-mod-faster-fastest). Rest 30 sec. Then 5 x 400 (10 sec recoveries) building speed on each 100 (slow-mod-faster-fastest). Recover 10 seconds after last one. Then swim a 500 time trial. All out. Your average 100 pace for this is your T-time for future workouts. Then swim easy, 300 cool down. (3000m/y)

My Comments: (We don't have the technology to chart data for swimming yet. I'll write about what is needed to do this at a later date.) His swim went as planned. Pacing was on but the final 500 was a bit slower than expected.

Rest: Take a 90 minute break after the swim. Stay off of your legs and eat a light meal.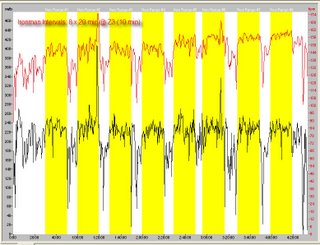 Bike: Warm-up 15-30 minutes. Then do 6-8 x 20 minutes at power zone 3 (10 min easy spin recoveries). Very aero with head tucked in. Eyes rolled up so you can see ahead. How many you do of these intervals depends on how you are feeling. It is OK to do fewer. If so just finish the ride at whatever effort feels appropriate. Eat/drink on bike just as you will do in race.

My Comments: Here you can see the chart of his bike workout with heart rate (red) and power (black). The yellow bars are the 20-minute intervals. You can see that he did 8 of the intervals. His power for each was in the upper portion of power zone 3. His heart rate stayed in the upper portion of zone 2 on each. And his decoupling was less than 5% on each interval. He nailed the bike workout!

Rest: Take a 90 minute break after the bike. Stay off of your legs and eat a light, liquid meal.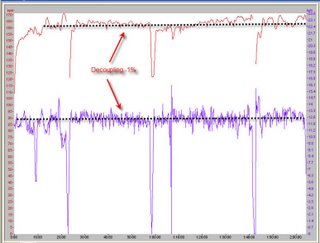 Run: Run 2 hours at upper HR zone 2. Take in carbs and fluids as you will in the race. Drink to thirst—not a schedule. Our goal is to see what your pace is at this HR and also to see if HR and pace remain coupled for 2 hours. A faster pace but with significant decoupling is counterproductive.

My Comments: The accompanying chart shows that he had a near perfect run. His heart rate stayed in upper zone 2; normalized, graded pace per mile was 7:46; he ran 15.2 miles; and decoupling was almost perfect as you can see in the graphic.

The purpose was to ingrain pace awareness, confirm that aerobic fitness is coming along by checking decoupling of heart rate and power or pace, to see how well the nutrition plan works and to see if he is up to the stress of such a day which is similar to what he will experience in the race. Of course, it's easier than the race because he needs to spring back in a few days and get right back into training again. If the workouts were longer, more intense, or done with the rest breaks between them he would end up losing a lot of training time in the following week due to fatigue.

The next Big Day in a few weeks will be a bit longer with a 1.25-hour swim, 5-hour bike and 2.5-hour run—if all goes well with training between now and then.