Build Period Specificity
As you start the Build period of training following a successful Base period your training intensity and duration should become more like the event for which you are training. The Base period is not nearly so specific to the demands of racing. In the Base period there is even a lot of similarity between what a road cyclist and an Ironman triathlete do in training. But by the Build period the training for these two sports is considerably different since the demands of the races have little in common. Let's examine this more closely with some examples from these two sports.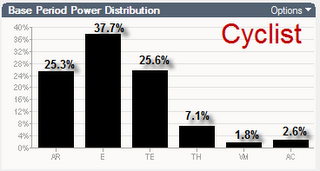 Here you see the bicycle power distributions by zones from the Base period for a competitive road cyclist and an Ironman triathlete. Each zone is labeled with its percentage of the total training time during te Base period. Both are very successful age-group athletes I coach and both Base charts are from their 2009 winter training. The power zones on these charts follow the Coggan system commonly used in WKO+ software. I've renamed the zones as follows: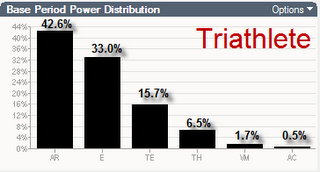 Zone 1. AR – Active Recovery. Less than 56% of Functional Threshold power (FTP). FTP is similar to the lactate threshold inetnsity discussed in my books.

Zone 2. E – Endurance. 56-75% of FTP. Used for aerobic endurance training. The intensity at which an Ironman Triathlon is typically raced.

Zone 3. TE – Tempo. 76-90% of FTP. A moderately hard effort. Equivalent to half iron racing intensity and also to riding in a fast moving pack in a road race.

Zone 4. TH – Threshold. 91-105% of FTP. A hard effort sustainable for roughly an hour. At 100% of FTP you are riding at CP60 – the critical power you could maintain for 60 minutes. This is the intensity at which you begin to redline.

Zone 5. VM – VO2max. 106-120% of FTP. The upper end of this zone is sustainable for about 6 minutes depending on how anaerobically fit you are. This intensity often determines the outcomes of bike road races on hills, when there are breakaways, and in cross winds.

Zone 6. AC – Anaerobic Capacity. Greater than 120% of FTP. Again, this intensity is common in road racing, but is never a factor in non-drafting triathlons.

While there are obvious small differences, if we simply look at how much training was done in the three lowest zones (1-AR, 2-E, 3-TE) we find that the cyclist spent 88.5% of his Base period intensity there and the triathlete 91.3%. And, conversely, the cyclist trained for 11.5% of his Base in the three upper zones (4-TH, 5-VM, 6-AC) with the triathlete getting 8.7% of training time there. Again, there is not a lot of difference in the intensity spread even though the sports are so drastically different.


But in these Build period charts you see a rather significant shift in training intensities from those of the Base. In the cyclist's chart two things are obvious: He increased his upper zones training time by half, and he increased his zone 1 (AR) time by about half also. The greater intensity appears to have required more active recovery time. I usually see a very similar shift for road cyclists as they move into the Build period. They simply need to rest more because of the more stressful, redline workouts. Notice also that the cyclist's zone 3 (TE) time decreased by nearly a third from the Base period. This is often referred to as "No Man's Land" by coaches and athletes. Build is the seasonal period when that moniker is best applied. There is a lot of value to zone 3 training in the early Base period for road cyclists.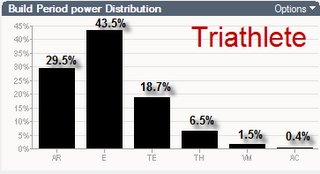 The Build period shift in training intensities from the higher zones to the lower was less pronounced for the triathlete. He went from 8.7% in the three upper zones in Base to 8.4% in Build. Not much. The most obvious shift here was from zone 1 (AR) in Base to zone 2 (E) in Build. AR decreased by nearly a third while E increased by about the same amount. What this tells us is that training in zone 2, while necessary for success in an Ironman Triathlon, is not nearly as stressful as upper zone intensity training was for the cyclist.

The bottom line to all of this is that the closer you get in time to your A-priority race, the more like the race your training must become. In road cycling, races are determined by how one reacts when the intensity is very high. Therefore the road cyclist's zones 4, 5 and 6 training increased significantly in Build while he also increased his zone 1 to recover from all of the stress. The Ironman triathlete's intensity shifted from zone 1 to zone 2 since his race at that distance will be raced mostly in upper zone 2 with short bouts in zone 3 on hills.

The question you must ask yourself at this time of the season is, "Am I making my workouts increasingly like my next A-priority race?" With all of the technology we now have available you can measure this quite accurately. But even without training gizmos you should be able to gauge how your effort is being distributed as the season progresses.