Preparing for the 2010 Season, Part 5
This is the last installment on how to prepare your Annual Training Plan (ATP) as you start thinking about the 2010 season. While I've been doing periodized planning for nearly 30 years now I realize that many see it as overly detailed and analytic. There's no doubt that it goes well beyond what most athletes are willing to do. If you are satisfied with your current level of race performance then this is not necessary. Just continue doing what you've been doing. But if you have set high goals for yourself I guarantee you that long-range planning will make those goals easier to achieve.

Step 6: Assign Weekly Hours
You've now got most of the ATP complete and have a general idea of what you will do in training. What remains are the specifics including setting the number of hours you will work out weekly—your volume. Once volume is determined you're ready to take care of the final details—the actual workouts.

In your copy of The Triathlete's Training Bible go to Table 7.2. In The Cyclist's Training Bible it is Table 8.5 (3rd edition) or Table 8.4 (4th edition). The Table is titled "Weekly Training Hours." Find your Annual Hours from across the top row of the Table and read down that column to see how many hours to train in each week by period. Write these numbers in the "Hours" column on your ATP. (Realize that these hours are not sacrosanct and only meant to be ballpark - they can and should be changed to better suit your situation when you come to that week in your training.)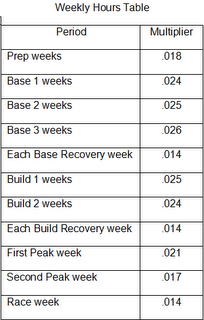 If you do not have a copy of my book (shame on you!), use the accompanying "Weekly Hours Table." Simply multiply your Annual Hours from the top of your ATP by the number in the "Multiplier" column to determine how many hours to schedule for each week of a period.


Step 7: Schedule Weekly Workouts
The
Period Purpose and Length Table
tells you the abilities to focus on each week by period. Let's get to what the specifics of those workouts are.

Now you know which abilities to train in each period (Period Purpose and Length Table) and what the workouts for each ability are like (see accompanying Workout Examples by Ability and Sport Table). So at the end of each week you can plan your workouts for the next week. It's generally a good idea to separate the most stressful workouts by 48 or more hours. There are exceptions to this rule that I may get at in future posts. In the Build periods, for most athletes, that means only three or four muscular endurance, anaerobic endurance workouts, or some combination of both in a week (divided between the three sports for triathletes). The workouts done between these are for maintenance of the basic abilities (aerobic endurance, force, speed skills).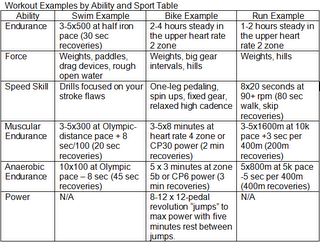 All that remains now is to decide how to distribute the weekly hours on a daily basis (see Daily Training Hours Table, 8.1 in The Triathlete's Training Bible and 9.1 in The Cyclist's Training Bible). The longest workouts will generally be for the aerobic endurance ability with muscular endurance being the second longest.
For the triathlete the starting point for distributing the hours by sport is to do about 50 percent on the bike, 30 percent running and 20 percent swimming. But this is modified by your performance limiters. For example, if you are a strong cyclist but poor runner you may want to shift time away from the bike and into running. In the Base 1 and 2 periods you may even consider placing an even greater time emphasis on your weakest sport. And, of course, within each sport focus the workouts on your ability limiters. For triathletes in Build 1 and 2 bike-run combination workouts ("bricks") are generally the longest sessions in a week.

When Things Don't Go Right
Of course, following a plan does not mean doing so rigidly. There will be times when you shouldn't follow the plan because you are not recovered from a previous workout, or feel a cold coming on, or for whatever reason you sense that it is just not right to challenge your body. At times like these it is always best to do less—to go short and easy or even take the day off. To do otherwise is to risk illness, injury, burnout and possibly overtraining. Missing one scheduled workout is preferable to missing one week, or more, of training. When you come to race day, having missed one workout has no impact on performance.

Also, don't try to make up for omitted workouts by doubling up on the workouts later in the week. This will only lead to greater problems down the road. Let it go.

What happens if you are injured for, say, a month? In such an extreme case you are going to have to start over again with an earlier period (usually Base 3), re-evaluate your goals and get back on track again. There may even be situations that cause you to greatly modify the periodization plan, say, for example, if you missed a couple of weeks of training and the national championship is in six weeks. There is no formula for such situations. This is where the art of self-coaching comes into play.

Generally, missing fewer than about seven consecutive days of training is treated as if nothing out of the ordinary happened. Press ahead. But if more days are missed it's likely you will need to return to a previous week in your plan and start over again from that point. This will require an overhaul of the ATP.

Conclusion
If you have never trained with such a detailed plan you may find it difficult to adjust at first. New habits are hard to create. But once you get used to it I think you will find that your training and race performances improve significantly. To make it work, review and refine your ATP at the end of every week as you plan out the coming week's training. From this overview decide what you will do for each day's training in the next few days. When you sense some reluctance to plan ahead remind yourself of the reason you are doing this - to reach high goals and to be the best athlete possible.