The Importance of Consistency
In the early chapters of my Training Bible books I stress how important training consistently is to fitness and performance. In fact, the biggest mistake most self-coached athletes make is not training consistently. It's not that they don't want to; it's just that they frequently violate an even more basic tenet of smart training which is at the heart of consistency—moderation. When you moderately increase the training stress in conservatively measured amounts you train consistently for week after week. But if you periodically pile on huge doses of stress, or skip a recovery period, you greatly increase your risk of injury, burnout, illness and overtraining. You may get away with it once or twice, but it will soon catch up with you and will interrupt your consistency. When there is a break in training for a few weeks or even a few days fitness is lost and you have to take a step back in training and begin over again. Many athletes experience this one or two times each season and, as a result, never realize their full potential.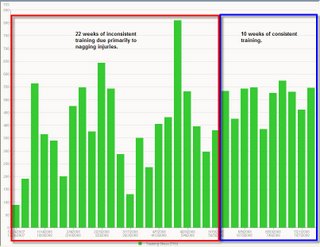 The first chart here shows the weekly Training Stress Scores (TSS) of an athlete who had a considerable amount of inconsistency due to injury early this season. Notice the extreme highs and lows of TSS for the first 22 weeks of the season (within the red box). Around the end of May the injury problems finally began to subside. Following that breakthrough training became more consistent—and also more moderate, you may notice. The variations in weekly TSS highs and lows are quite small compared with the variations earlier in the year.

The second chart shows what has happened to this athlete's fitness over the course of the same period of time. Note how there has been a steady fitness increase the last 10 weeks (in the blue box). With four weeks to go until the biggest race of the season the timing could not have been better. If this pattern continues she will have excellent fitness when it counts the most.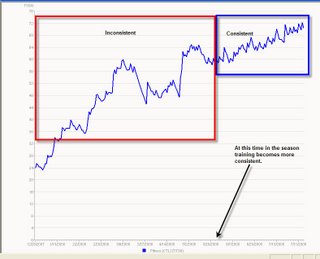 The lesson to be learned here is that in order to produce your best performances you need to train consistently. And the key to consistency is moderation when increasing training stress. If you get this right I can guarantee that you will have your best season ever.