FTP Confirmation Test
I'm a scientist-athlete at heart (see Athlete Types below). I like to tinker with things in training to see what happens. My client-athletes are often the subjects for this tinkering. For example, for the past year or so I've been playing around with a less-stressful way of finding Functional threshold Power (FTP) than the very stressful 30-minute time trial test (CP30 test) I've used for several years and written about in my books. While I've found the CP30 test to be pretty accurate it is quite challenging and has a significant post-workout recovery component. There are times when I don't want to stress the athlete that much but would like to check to see that we have FTP correct for the coming weeks. So I've been using another, much less stressful test to confirm that what we found earlier with a CP30 test is correct or to slightly modify what we have been previously using for FTP. This test requires having a very well-established lactate threshold heart rate (LTHR) which may have also been determined with CP30 tests, races and workout data. Having an accurate LTHR is critical to the test I'm about to describe.

LTHR occurs at about FTP. And since LTHR doesn't change much from month to month or even year to year in well-conditioned athletes in a given sport (it varies between sports) it serves as a nice standard. FTP may, and should, change significantly over the course of a season, however. Yet it should always occur at about LTHR.

Here's how I've been doing the FTP confirmation test.

On a bicycle indoor trainer the athlete warms up for 10 to 20 minutes. Then he/she starts a graded exercise test which consists of several four-minute work stages separated by one-minute recovery stages. The first work stage begins at a power that is about 80 watts below what FTP is currently considered to be based on previous testing. Each subsequent work stage is increased by 10 watts. This continues until LTHR is observed. The average power for this last stage is considered to be FTP.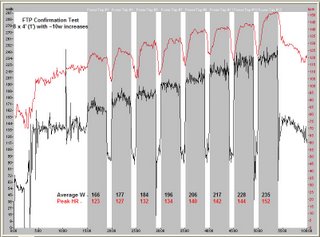 As mentioned, I've used this confirmation test for about a year with some of the athletes I coach and the results have appeared to be fairly accurate. But I recently decided to check its accuracy. So last Saturday I had an athlete do the above-described indoor trainer confirmation test. The first chart here illustrates that test. The next day I had him do a CP30 test on the road. The second chart is his CP30 test.

The confirmation test predicted his FTP would be 235 watts since he achieved his LTHR of 152 bpm during the eighth stage when the mean average wattage was 235. The next day when he did his CP30 test his mean average power for the 30 minutes was 240 watts (241w normalized power) and mean average heart rate was 151. The mean average heart rate for the last 20 minutes of the CP30 test was 153. So the effort seems to have been quite high for this test.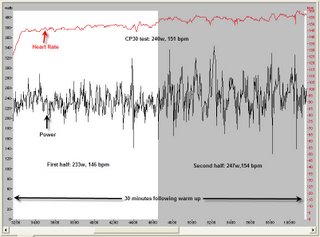 The results of the cp30 test would indicate that the Saturday indoor trainer confirmation test was off by about 2% (235w vs. 240w). That's pretty good so I'm fairly well satisfied that the confirmation test is an accurate predictor of FTP – and is much less stressful than the CP30 test. But I'll keep gathering data for different athletes to see if it holds up under such scrutiny. It could be that there was a margin of error built into the procedure in that some fatigue was realized from the Saturday test and so the Sunday test may have yielded a lower FTP than might otherwise have been realized. (The athlete reported feeling rested and strong in the Sunday CP30 test.) It's also possible the athlete held back too much in the first half of the CP30 test since average power increased 6% in the second half. That's somewhat outside of the 51-49 negative split principle I've written about here.

If you try the confirmation test please let me know how it compares with your most recent CP30 test. Thanks!